Case Study:
Vicinity Centres – Australia
Products used: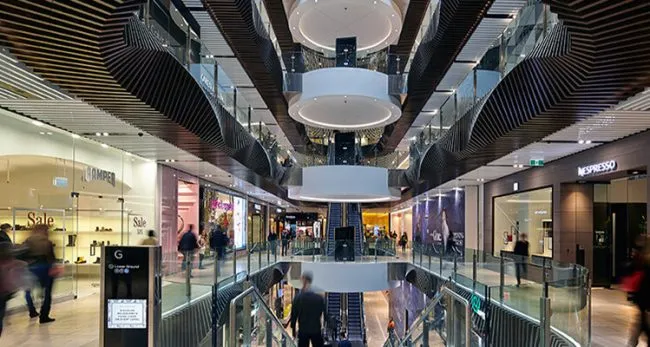 Vicinity is one of Australia's leading retail property groups, with 65 shopping centres based across the country.
A premium and innovative company, Vicinity's centres are designed to enrich the community, and bring people a convenient and high-end experience from start to finish.
The challenge
Vicinity didn't want their high-end experience to stop at the washroom door. After all, the cleaner and more user-friendly the washroom, the more likely a customer is to use it – and the longer they'll spend at the mall.
Vicinity Centres' traditional, large, floor-mounted sanitary bins just weren't living up to the company's premium reputation. So when Vicinity came across <b><a href="https://sanipod.com/">SaniPod™</a></b> solutions at a trade show in Amsterdam, we got the ball rolling on a two-year nation-wide refit project.
The solution
SaniPod™ worked closely with Vicinity to install Pod™ Petite units at their centres across the country. We kicked things off with a six month trial at four key sites, giving Vicinity and their cleaning company a chance to take the hygiene bins for a test drive, before rolling out as many as 1800 units across 65 centres.
The results
The sleek, modern, and elegant Pod™ Petite is now a staple in Vicinity Centre washrooms across Australia.
The new sanitary bins can be safely and hygienically serviced by Vicinity's own cleaning company. That means any issues can be cleaned up quickly and efficiently – without the need to involve a third-party hygiene service company. This has helped Vicinity streamline their cleaning processes and procedures, and keep their servicing costs to a minimum.
Best of all, customers have been actively reaching out with positive feedback. And for a product traditionally treated as a bit of an afterthought, that speaks volumes.
"I just wanted to say thank you and congratulations on finding an alternate option for sanitary bins in the Ladies bathrooms. As a bigger woman, I find it a bit 'gross' having my hip touching the standard bins found in most public bathrooms."
Facebook feedback, Vicinity Centres