Pod™ Petite Auto – 2023 Sanitary Maintenance Distributor Choice Award Winner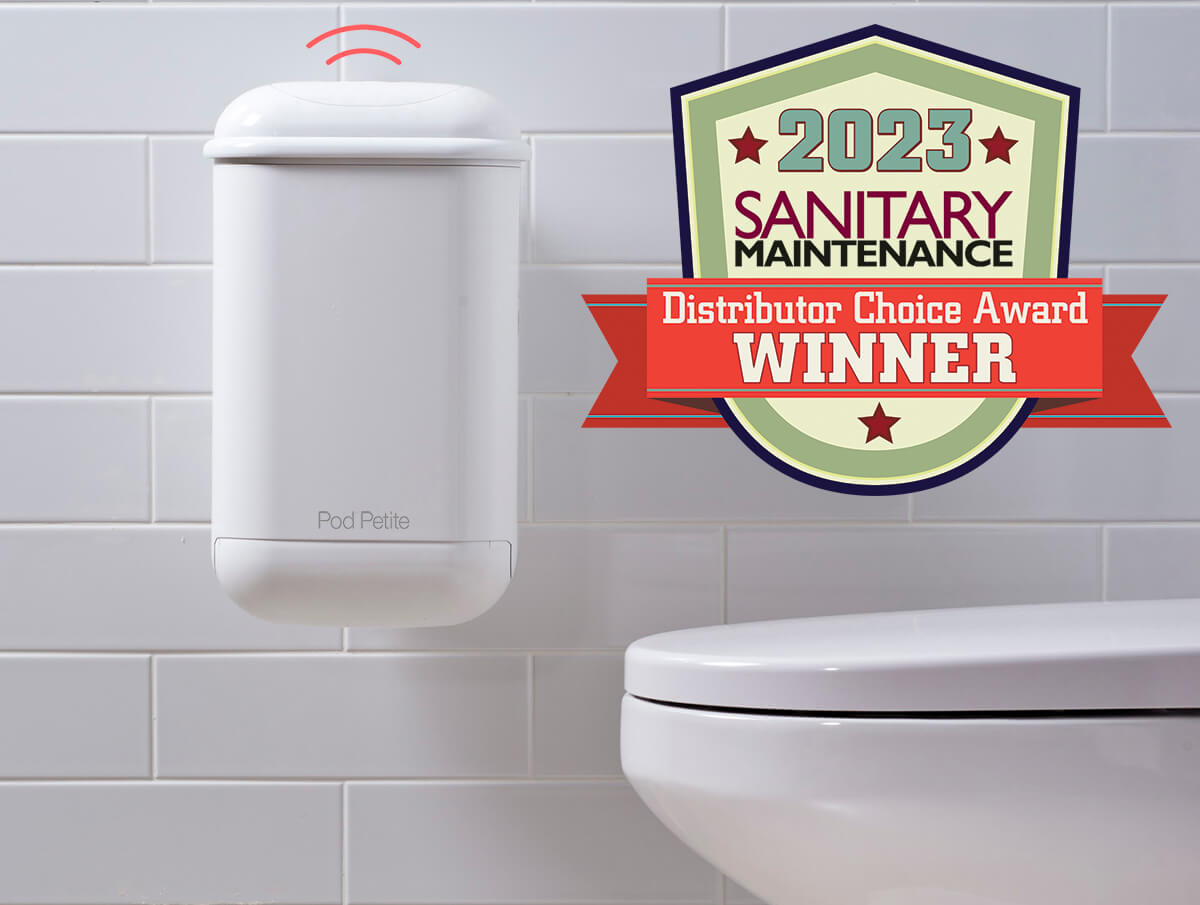 After six weeks of voting from Jan/San distributors, the winners of the Sanitary Maintenance 2023 Distributor Choice Award have been determined and the results are in!
We can proudly announce that our Pod™ Petite Auto sanitary disposal unit has been announced as a winner in the Restroom Dispensers, Fixtures and Consumables category.
The Distributor Choice Award program is Jan/San distributors' chance to highlight the products that have made a difference in their businesses and the businesses of their customers. Ballots were sent to Sanitary Maintenance readers who could choose the top three products they considered to be the best in the industry. Distributors identified their favourite products based on best selling, most preferred, most recommended, most innovative, etc.
Based on this voting exclusively from Jan/San distributors, three winners were identified in each category and we couldn't be happier that our Pod™ Petite Auto feminine hygiene waste receptacle was recognised for its innovation as a preferred sanitary disposal solution.
SaniPod's creators have been through the hassle of sanitary disposal first-hand, and know just what people want from a feminine hygiene receptacle.
We're pioneers in automatic sanitary disposal bins with motion-activated technology for a hygienically hands-off experience that looks great in your washroom too! Available in black and white models to enhance your washroom environment, Pod™ Petite is a considerate design women choose to use which means no more toilet blockages or plumbing callouts.
Not only was Pod™ Petite Auto designed for the ultimate touch-free user experience, but Pod™ Petite female sanitary disposal units also are quick and easy for anyone to clean and maintain, with zero exposure to waste and cross-contamination for total protection cleaners can count on.
To read more about the 2023 Sanitary Maintenance Distributor Choice Awards, click here