Case Study:
Total Property Services New Zealand
Products used: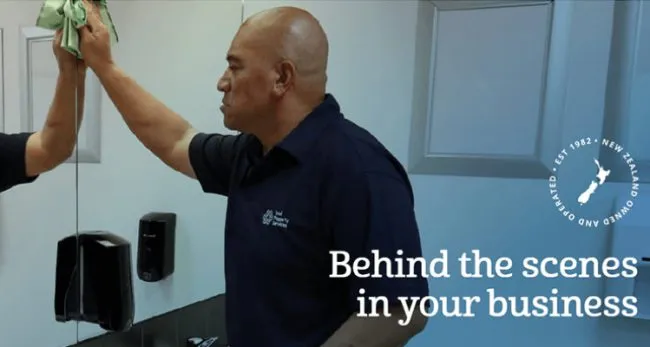 Total Property Services New Zealand (TPS) provide Facilities Management Services to some of the highest profile customers throughout New Zealand.
Renowned for being a people first organisation, TPS support their clients by taking care of business with a 360 degree partnership approach. The first company to gain membership with the NZ Green Star Building Council, they offer clients an audited approach to reducing corporate impact on the environment, and providing their staff with
healthier, safer and cleaner working spaces.
From contributing to Green Star Ratings to introducing Circular Waste Economies, nothing is outside of the TPS team – creative solutions to benefit not only their clients people and work environment, but also ensuring a better New Zealand for everyone is their driving force to always seek to deliver and improve.
The challenge
To be able to offer solutions that are creative, innovative and with a strong sustainable edge to enhance their clients environments is an important part of TPS's company ethos.
The solution and results
After careful consideration within the market, TPS chose to incorporate the Pod™ Petite sanitary unit as part of their leading edge washroom solutions. The innovation, the background story and the sustainable impact of these products meant that selecting them was a very easy decision.
Pod™ Petite offers the touch-free and state-of-the art design solutions that TPS were seeking. The creative thinking such as the SaniPod™ x Dignity designed sanitary unit also really struck a chord – enabling them to offer a sanitary unit that is world-class and at the same time SaniPod's $1 donation per unit to Dignity NZ meant that the fight to end period poverty in New Zealand is a positive action for social good within the community that TPS and their clients can be part of.
The new female sanitary disposal units can be safely and hygienically serviced by TPS's own staff. That means any issues on client sites can be rectified quickly and efficiently – without the need to involve a third-party hygiene service company. This has helped TPS streamline their procedures, and keep their costs to a minimum, but also helped their clients reduce their carbon emissions by reducing the number of transport services to sites.

"In our industry we want to align with partners that have a similar outlook as ours, and the SaniPod team deliver every time. We have introduced their products in some of NZ's most prestigious washrooms yet also deliver in a highly industrial space where the operations teams work 24/7. Their more recent alignment of with Dignity NZ means we can also extend community good into these areas through our services."
Debbie Tane, Business Development Manager - Total Property Services, New Zealand